Tuesday, Dec. 27, 2005 @ 9:55 am
The Day After My Birthday
---

Near the middle of the Cassiar tunnel my body shuddered and folded in on my heart. I gripped the edges of the seat, staring straight ahead, out the windshield of the truck, into the dark mouth of night ahead at the end of the tunnel.

Daniel played the piano while I lay in bed on the other side of the wall in the cottage. Christmas Eve. I curled up on my flattened childhood teddy bear, still recovering from and dealing with the realization of my age. He comes into the room and asks, Shannon, are you sad? You're cuddling Nuzzles. I can't hide the tears on my face.

I let myself travel back to what Christmas Eve was like ten, twenty years ago. Everyone in the house together, all my treasures stored beneath my bed and toppling out of my closet, the walls of my room covered in magazine photos of whales and horses. It was magic then, because I didn't feel guilty recieving presents. I didn't see the sadness of the well-used dishcloth, the thriftyness of the hand-made chair cushions, or the dust on the faded fake flower arrangement by the front door. I cry, thinking about my mother buying me a set of stainless steel pots from Ming Wo, thinking about her having trouble carrying them from the mall to her red car, imagining her writing the cheque for the Mastercard bill in January. I cry, wondering how sad she is that I am not sleeping in the house tonight, and I cry because she looks old and because she uses Shake-n-Bake.

Daniel cuddles up beside me and holds me. Tries to tell me that getting older isn't all bad. I don't tell him that it's not only age, but the discovery that my parents are real, that I will be no different, and that I could be satisfied with that sort of life.

I fall alseep, afraid of the unconsciousness of sleep, the darkness of nothing.

Morning arrives, and I still feel tender. In the shower he washes my back with soap. His hand is large, rough, and I close my eyes, and for a second I am an infant and he is my Dad and I am vulnerable but taken care of.

Thank you for taking care of me.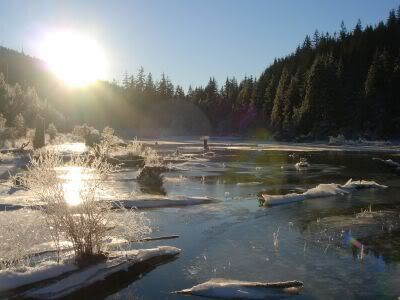 �