SWORDFERN

Profile - Archive- RSS
Notes - Email - Diaryland

Purgatory - Sunday, Feb. 10, 2019
Day Fifteen - Saturday, Feb. 09, 2019
Day Fourteen - Saturday, Feb. 09, 2019
Day Thirteen - Thursday, Feb. 07, 2019
Atonement - Thursday, Feb. 07, 2019


Friday, Mar. 10, 2006 @ 4:37 pm
March Snow
---

This morning I dug my van out of a half-foot of snow from in front of Daniel's house way back up the side of the mountain in Port Coquitlam. I slip-slided down an unplowed Oxford Street and managed to make it home to the cottage with time to go out for a snowy walk before having to leave for work. I was the first person around my side of the lake.

Now the sun is out and the roads are dry... just some snow left of the grass in the shade. Daniel is on his way over and we're going to make a crazy bean soup and then I'm going to help him practice his piano parts for the highschool production of Little Shop of Horrors that I somehow convinced him into accompanying.

Work was slow today so I got a tour of the control room, which is NASA-like with a wall of flat-screen monitors and a curved desk full of computers and subdued lighting. I learned about how the water is pumped around the GVRD and got to see secret spy-cams of various spill-ways and parking lots. There even used to be a bat phone that would ring to send them a notice of an alarm situation.

I had my last drawing class of this session on Tuesday. I have a break from volunteering for the next two weeks. Free time... means... more... sleeping!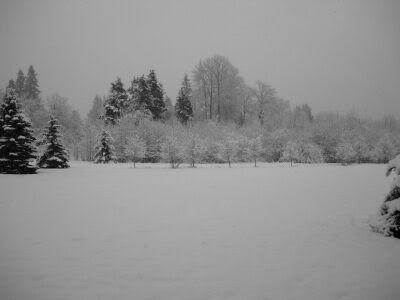 �