Monday, Jan. 05, 2009 @ 3:37 pm
Trip Report
---

The Trip.

We left on Saturday morning, taking the ferry via Tsawwassen because of the reduced BC Ferry fares. We crossed the border and drove straight through Washinton and Oregon, ending up in Yreka, California for night #1. We woke early to a dusting of fresh snow and pushed on down through California, ending up in Barstow for night #2. We made a stop in Bakersfield for groceries - the man at the gas station sent us to a suburban Food Maxx. I guarded the car, sitting inside with the doors locked, while Daniel braved the massive store in search of bread, cheese, and wine. I watched as young hispanic couples loaded their groceries in babies into window-tinted SUV's, and a wild dog scampered across the parking lot in the early dusk light. Daniel never did find a hand basket in the store; however, he did find a 1/2 loaf of bread which is unusual for even Canada. This, the Food Maxx, is the part of America that scares/saddens me.

From Barstow, we drove parts of old Route 66 into Arizona, stopping frequently to explore the desert landscape. We cruised into Phoenix at rush hour, making our way across massive 7-lane interstates (that's 7 lanes in ONE DIRECTION) into the posh area of Gilbert, where my aunt and uncle 'live'.

We spent 4 nights in Phoenix, exploring old Scottsdale (yawn), visiting the Heard Museum (wonderful), hiking in a regional park (fantastic), and driving down to Tucson, where it was actually a little bit warm.

The first night we arrived in Phoenix, we were taken to a Christmas party in the gated community were my aunt and uncle used to 'live'. We were the youngest at the party by at least 30 years, and we got drunk, and D spilled his drink on the lino, and it was entirely hilarious.

We left Phoenix on the Friday morning and headed up through Flagstaff to the Grand Canyon. We spent a night there, doing the whole Grand Canyon thing, a thing which has been done by so many people for so many years. The Canyon is Grand, and it impressed me more than I expected. Oh, and it was 0*F there. The coldest I've experienced in my life.

From there we headed to Las Vegas. We'd pre-booked a room at the Luxor, and we were treated to a free upgrade because all of the pyramid rooms were full. I was extremely uncomfortable with Vegas. In fact, I pretty much hated the entire time we were outside of our hotel room. We both gambled one dollar at the nickle slots, and we wandered through three of the huge hotels.

The next morning we headed to Death Valley National Park for the day and explored the valley and the dunes. We decided to not spend the night at Death Valley - rather - we headed up to Tonapah, Nevada (ie. Nowheresville) for the night. A nice relief after Vegas.

That night we watched the news of how the Northwest was being battered by snowstorms. We saw that several passes were closed, many others with packed snow. And there was another storm on the way.

We decided to head'er-on home and booted our way through Nevada the next morning, cut through Idaho for a couple hours, and then spent the night in Baker City, Oregon. At this point, because of the road conditions, my parents were requiring frequent check-ins. That, combined with the coming doom of Christmas, made us both edgy - we were ready to come home.

I'd never done such a huge road trip before. Over 7000km in 11 days. US National Parks are amazing and well-kept. US Interstates are extremely well maintained. Phoenix is located in a beautiful area, and the unhistorical city pales in comparison to the surrounding cactus-strewn mesas.

My Carbon Footprint is larger this year, yes, but it was worth it, to have seen a small part of the world I never thought I'd visit.

Near Oatman, AZ

Snow in the Grand Canyon

Cacti near Phoenix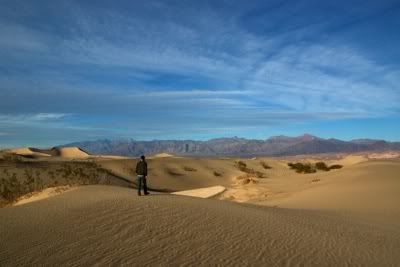 Dunes in Death Valley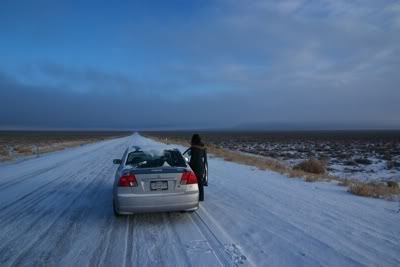 A little packed snow in Nevada
�