Tuesday, Oct. 06, 2009 @ 6:06 pm
Snowed Out
---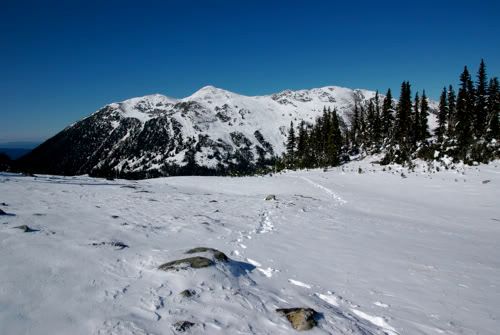 Last weekend we were hiking on golden, dry grasses. This weekend, we hiked in snow.
It got us this time, the snow did. Our first incomplete hike of the season. As we began to ascend the ridge, we encountered deep, fresh snow on a boulder field - a very risky situation. We pushed ahead for a while, and eventually we stopped to make a decision. It was a difficult decision to make because we'd invested two hours of driving - one of which on questionable logging roads - to get to the trail head. We had to stop, though, because the situation was worsening.
So, that's it for hiking this year. There is snow in the forecast this weekend in town. I already had to scrape a hard frost off of my windshield.
Now it's time to get down to some knitting... and volleyball.
�