Thursday, Mar. 04, 2010 @ 5:45 pm
Field Day
---

Aaaaand... back to normal life.

The house is mine. Final, done, mine. Well, until I take possession at the end of the month.

A huge weight has lifted, and I feel alive again.

I went tanning yesterday after work, something that I've never done, in the hopes that it will help my difficult winter skin. Totally out of my element, strange women and shelves lined with tanning products. It was a guilty pleasure, like buying chips.

As if to undo my burgeoning girly-ness, I went out into the field today. I went with Andrew to install a level logger in a sanitary manhole on a reserve West of town. We also retried the flow data from a culvert, and we were tasked to measure the slope of the bottom of said culvert.

Andrew didn't fit into the hip waders, so I strapped them on and waded into the briskly-flowing creek. All of the Indians stopping to ask what we were doing. Dogs jogging by with secret agendas. Dry bullrushes limp and faded, rustling.

He drove us back to town. We stopped in [email protected] for coffee...well... mochas for both of us. He should've been my brother.

Driving down the dry sandy highway in the late afternoon, him telling me stories of fishing and sailing, and me totally in love with this landscape and how my life is turning out.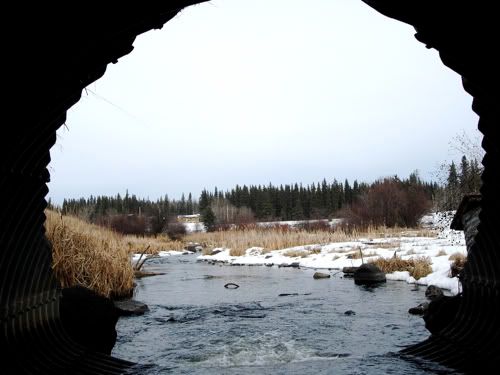 �