Tuesday, Sept. 14, 2010 @ 6:42 pm
Summer Vacation
---

In the mountains, pushing over barren passes, gentle warm sun alternating with severe blowing snow. We are alone out here, back of beyond. In the heart of the Rocky Mountains, skirting ice fields and mountaineer camps, we head to our destination of a somewhat sheltered tarn.

The landscape is scarred with grizzly diggings. We string our food up in a runty tree, hoping for the best. Snow slides off the tent in regular intervals, our hearts jumping with each sudden woosh.

We cross an alpine plateau, the toe of a boulder field spilling across the waving golden grasses. An animal darts across the meadow. My eyes scan quickly, registering two fleet mottled grey mammals and one large black matriarch. BEAR! my throat shouts, DANIEL!. He is behind me on the trail. BwEoAlRf! We speak at the same time. wolf! he whispers.

The mother wolf watches us, stone still. The pups have vanished. I begin scanning around us. Eyes wide, heart pounding. A pack of wolves, and we are alone. She stares us down. I turn sideways, exposing my hulking pack. I put my hands over my head. She begins to retreat. I take a quick photo, regretting the moment of being dumb behind a lens, a moment of weakness, but she is captured in my hand.

On our last day, we ascend a rarely-hiked pass. No trail. Pure challenge, to follow a route. We traverse steep scree, step nimbly between massive boulders, all the while assessing and adjusting our route. A slinky mammal glares, then dives into the hollow beneath a boulder. From the pass, we see a masterpiece of geology and botany. Undulating outwash plains, jagged peaks, blinding glaciers. Wavering grasses and flowers carpet the pass.

I am in heaven.

The wolf retreating, at centre left.




Camp at Devon Lakes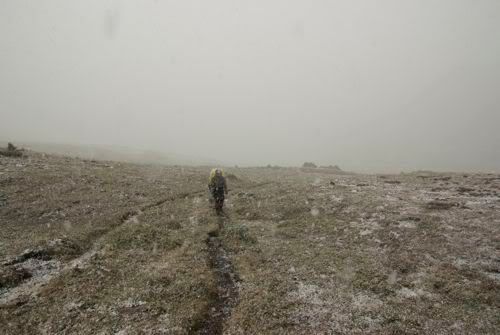 This is August in the Rockies.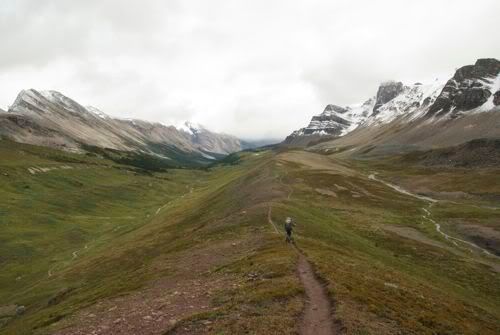 This is also August in the Rockies.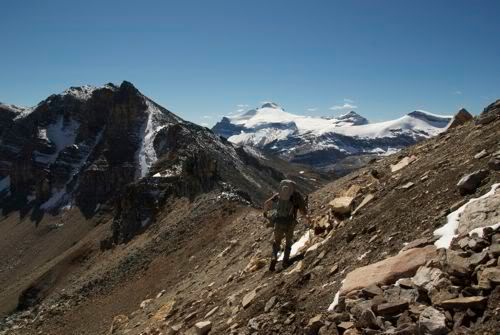 Ascending unnamed pass via sparsely described route.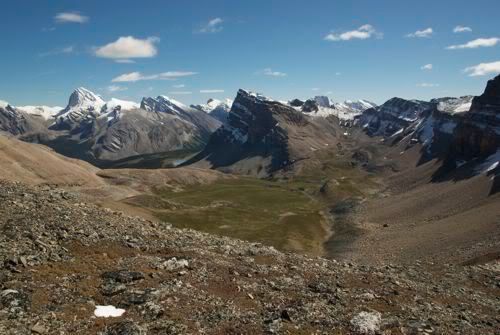 The view from the pass, looking back.




The view from the pass, looking forward, blocked by me. Hector Glacier in the background.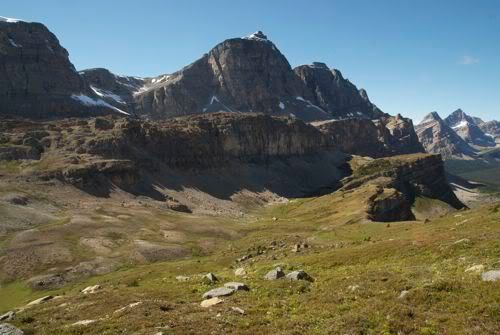 Descending the pass.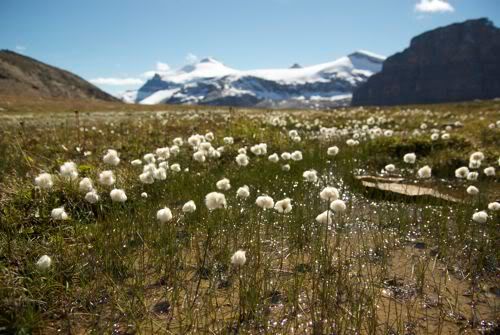 Cotton grass and the Hector Glacier. Heaven.



�