SWORDFERN

Profile - Archive- RSS
Notes - Email - Diaryland

Purgatory - Sunday, Feb. 10, 2019
Day Fifteen - Saturday, Feb. 09, 2019
Day Fourteen - Saturday, Feb. 09, 2019
Day Thirteen - Thursday, Feb. 07, 2019
Atonement - Thursday, Feb. 07, 2019


Thursday, Sept. 01, 2011 @ 10:25 am
Vancouver
---

The Lions are an icon of Vancouver. The two granite spires keep watch over the city, and they are the namesake of the Lions Gate Bridge.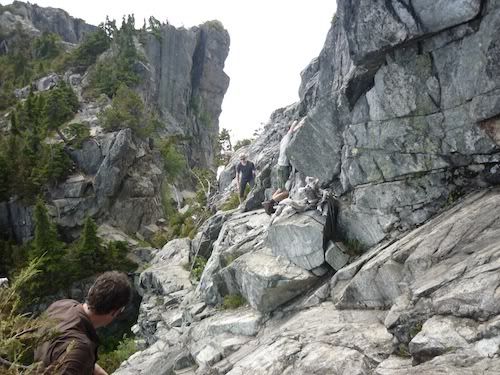 Climbing the West Lion is not for the faint of heart. The hike involves a 1300m elevation gain from Lions Bay (duh!) followed by an exposed scramble up the final leg of the ascent. The scramble is not technical, but it does require fastidious concentration as any error can result in a fatal fall.




The view from the top, with the East Lion towering in behind. Daniel, me, Ian, and David. Under those clouds is the city - 2.2 million people and a heck of a lot of concrete and asphalt.




At night we go into Gastown to pub hop. P0urh0use, Alibi R00m, and Six Acres. This is the view from the 14th floor of the renovated Woodward's building. Department store turned fancy condo livin'.

It's funny how this city is so familiar to me, but it's like I'm really seeing it for the first time. It seems so 3-D, and so vibrant, and so much friendlier than it was five years ago. Has the city changed? Have I changed? I hardly feel as though I can say that this is my hometown - there is so much of it that I don't know. I feel as though my time growing up here was spent floating on the surface of the city and never really diving down into the thick culture of city living.




�