Tuesday, Mar. 13, 2012 @ 8:33 am
Pillow!
---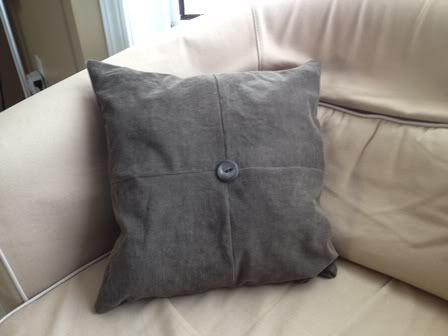 Here's the near-final product. I've since added more stuffing, and it turned out better than I expected. The button is from a can of buttons that I inherited from my maternal grandmother - it appears to be hand carved out of some type of stone material.
In other news, we're suffering from some mental chaos. All we can talk about is jobs and moving and what is going to happen. D is trying to dig himself out from under a pile of papers, student association responsibilities, and lengthy online job application forms. I am trying to keep up with the housework.
The most recent opportunity that we've been talking about is in Kamloops. I started a cover letter to apply to an engineering firm with an office right downtown. I found us a condo, a character house, and acreage. I mapped out a running route and found a brew pub to go to after work.
And then yesterday D gets an email from a local planner about an unposted one year position in town with a non-profit stewardship group. In town. Now this changes everything. I've been living my life as if we're leaving. I haven't been investing in anything - friendships, the office, the community. I've been going about my business on the assumption that we're going to be gone by the end of May. The pantry is bare, closets tidied, excess stuff purged.
What if we stay for a year? Another year of waiting to get on with things? After the boys visited us the weekend before last my ideas of motherhood have been dampened. Would living here for a year with two incomes and free weekends change our experience?
It makes financial sense to stay. With D contributing to groceries and utilities, I would be able to dump some cash onto the mortgage. The low cost of living here would mean that he would be able to pay off a good chunk of his student loan.
Staying would give us a chance to explore some areas that we've missed, namely Kakwa, Tweedsmuir, and Bowron Lakes Provincial Parks. Do the classic backpacks of Berg Lake at Mt Robson and Skyline in Jasper? Maybe head out to Haida Gwaii? Drive the northern loop through the Liard? Drive to Alaska? Obviously there's no way we can do even a quarter of that in a year, but maybe it illustrates some more reasons to stay?
If we stay, we have to commit to it. We have to not be waiting to leave. Kind of like an arranged marriage - over time you discover that you have a deep love for one another? If we stay, it will be a year of romancing the north. Unlimited gas budget, sleeping bags in the trunk. Set a precedent for our years to come - right now is the rest of our lives.
�