Thursday, Mar. 22, 2012 @ 8:50 am
Groceries
---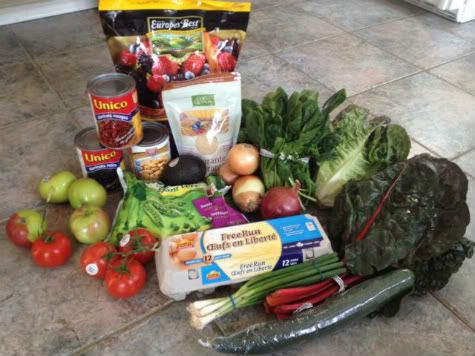 This is what $45 worth of groceries looks like in late March in Northern BC. It is the perishables required to made three suppers (with leftovers for lunches), a few days worth of green salad, and frozen berries for a couple of weeks worth of breakfast smoothies.
Here is what happened yesterday afternoon:
"Ooh, red peppers are on sale! Wait, they're from Mexico. Green onions are from Mexico too?? OK, I'll check the organic green onions. Nope, they're from Mexico too. Tomatoes? On-the-Vine, Hot House, and Field all from Mexico. Romas supposedly from BC, but they're all gone. Garlic? China. Kale? Mexico..."
You get the idea. And this is in a store that prides itself on supporting BC growers.
The alternatives are no better. Apparently the produce at Wal-Mart is really good, but I wouldn't shop there for vegetables even if it weren't located on the opposite side of town. Superstore is disgusting, I'm sorry, at least ours is. Our local organic grower, P&R Organics is calling it quits after losing too many crops for two years in a row. Crop insurance wouldn't cover them because they don't grow enough of one thing (ie. monoculture) to qualify. The closure of P&R is causing the Farmer's Market to have to move locations, and there will no longer be a vegetable vendor at the winter market. Anyhow, long story short, there isn't really a viable alternative for produce shopping. The Asian produce markets so common in Vancouver simply don't exist this far north.
As I write this, I realize how crass it is to complain. I am grateful for tomatoes in the winter. I am grateful for access to such healthy food. Our groceries for this month are already at $530, but is this something that we should really be trying to cut back on? I tried to plan meals around the flyer sales, but I found a grand total of three ingredients in the flyer that I would actually buy - the rest was processed stuff in boxes. We're not buying junk - if this is the cost of real food, then it is what it is.
Anyhow, I'll address my last post at some point. There's a lot of stress on Daniel right now, and I expect things are going to change for the better in a few short weeks. Last night I made a gorgeous free-form spinach and ricotta cannelloni, pasta and sauce from scratch, and he came home late and ate it, and I enjoyed watching him enjoy it, and I didn't feel used. I have the capacity for love - I just need to focus more on the rewards than on who does what to get there.
�